How much Value do we Add in our processes?
Many studies have shown that we only add value to a product for less than 5% of the time, the rest of the time is wasted! If you were to do a value stream map of your value stream you may be surprised (horrified) at what you find.
Having done this study myself many times for many companies I have yet to find one that reaches 5%! This is a terrible figure, so imagine if you could improve on this!
But what is waste, we have already defined the seven wastes, muda, mura and muri on other pages within this site but there are still times when we are not sure.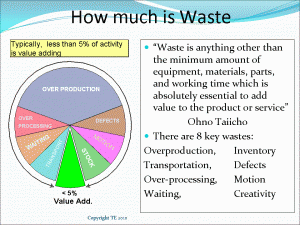 Wasted Time and Money
Within every process there are two elements, those that add value and those that add no value, both take time and cost us money but only one earns us money.
Defining Value and Waste
So how do we define waste or non-value adding processes?
Toyota (Taiichi Ohno) define waste as;
"anything other than the minimum amount of equipment, materials, parts, and working time absolutely essential to production."
Another definition of waste is;
"anything other than the absolute minimum resources of materials, machines, and manpower required to add value to the product."    (Hay 1988)
However both of these are subjective definitions, what is "the absolute minimum"?
A better definition of value adding and non-value adding would be;
"Only an activity that physically changes the shape or character of a product or assembly can add value."
"Any activity that does not change the product or assembly is waste."
However even this can fall short in some areas, consider the case of conducting a roughing cut, or in over polishing a surface that will never been seen. These change the character and shape of the product but are not necessarily the most efficient use of our time.
Therefore; every activity should be considered to be waste unless it;
Meets an explicit customer requirement
Cannot be shown to be performed more economically
Eliminating Non-Value Adding Processes
So when you examine each step of a process you should be asking these questions;
Is this step changing the form or character of the product?
Does this step meet an explicit customer requirement?
If the answer is "yes" then we should then ask ourselves if there is a more economic way to perform this step.
Value Add Video Clip