Welcome to Lean Manufacturing Tools, this website will educate you as to the various principles of Lean Manufacturing, Its many effective tools and techniques and the people who have been instrumental in its rise. This site will also keep you up to date with new developments in the various industries in which lean is being implemented. As you scroll down this page you will find brief summaries of the various lean tools and techniques and links to pages where they are described in more detail.
Free Lean Presentations
We also offer you a full range of free to download lean presentations that are available in PowerPoint (pptx) and PDF formats as well as online training and consulting through our lean coach.
What Is Lean Manufacturing?
Lean has been called many things in the past; world class manufacturing, Stock-less production, Just in Time Production, to name a few, but what is Lean Manufacturing?  Follow this link for a full discussion of lean and a lean manufacturing definition.
The History of Lean Manufacturing
Lean Manufacturing has a history that goes back many hundreds of years before the model T Ford production lines and the Toyota Production System that we know today. For a full discussion look at the history of lean manufacturing.
The Benefits of Lean Manufacturing
Why would we want to implement lean manufacturing? What are the benefits of lean manufacturing? For a full round up of anecdotal benefits as well as factual statistics have a look at the benefits of lean manufacturing.
Principles and Philosophy of Lean Manufacturing
There are five main principles of lean manufacturing as defined by Womack and Jones in their 1990 publication "The Machine that Changed the World"; but what are these lean principles?
Muda, Muri and Mura The Wastes of Lean
Discover the the Seven Wastes of Lean manufacturing and learn the difference between Muda, Mura and Muri.
Lean Manufacturing Tools
5S Workplace Organisation
.
5S is one of the basic building blocks of Lean Manufacturing, one of the first lean tools that you will start your implementation with and one without which you cannot succeed. But what is 5S, what are the benefits of 5S, and how do I set up a 5S program? 5S is not just for manufacturing processes, it is as applicable in service and 5S office implementations often give greater improvements in lead time than those conducted on your shop floor. With the addition of Safety as an additional "S" we get 6S; 5S plus Safety.
.
.
Process Mapping and Value Stream Mapping
Process mapping your value stream using ideas and techniques such as Value Stream Mapping (VSM) or simple Flow charting or spaghetti diagrams  are very powerful ways to identify and highlight the wasteful steps in your processes. This allows you to create future state maps and create action plans to simplify your work and drive improvements.
.
.
Just in Time Production and Kanban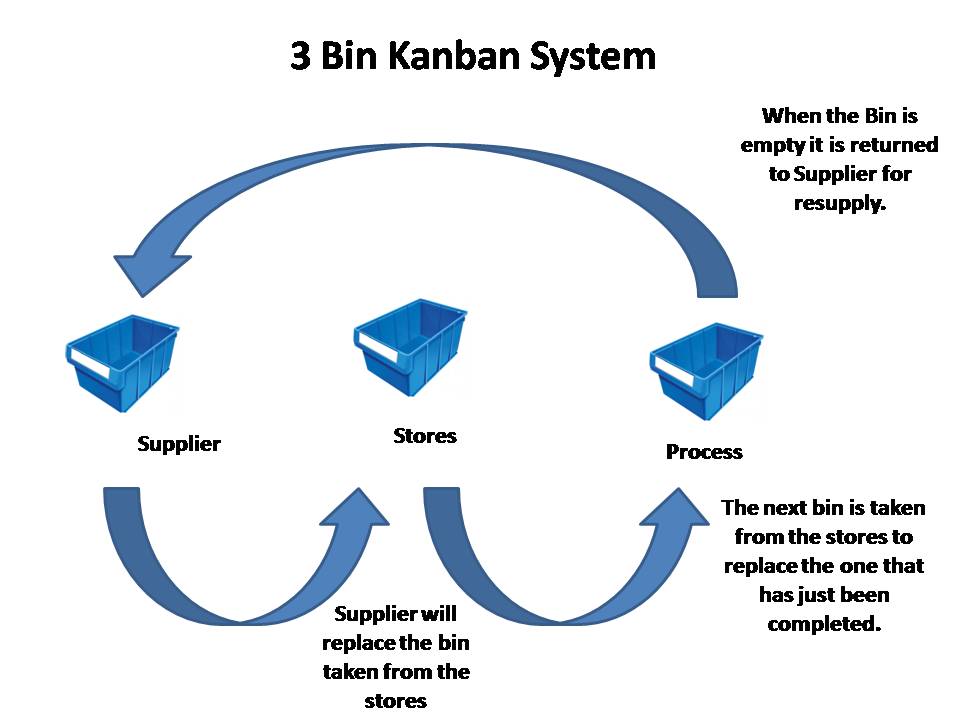 Just in Time production or JIT is one of the main pillars of Lean. It is all about making what the customer wants, when they want it, where they want it and in the quantities requested without anything being held up. This requires a reduction in inventory and a move towards working with small batch sizes as well as improving and balancing the flow of your processes. Typically you will need to use Single Minute Exchange of Die (SMED) techniques to reduce setup times to enable batch size reductions. You will also need to implement Kanban to enable clear flow without excessive amounts of planning.
.
Kaizen
.
Kaizen is all about continuously improving every process in your business. This can be done through ongoing continual improvement or through a dedicated Kaizen Blitz designed to make a rapid improvement to a specific area of your business.
Jidoka
.
One of the supporting pillars of the Toyota Production System and hence Lean Manufacturing, Jidoka is about built in quality and encompasses ideas such as Autonomation which is giving machines the "human touch" so that they can stop when things are incorrect, also Poka Yoke or mistake proofing to prevent defects being produced, accepted or passed on. It also encompasses the philosophy of stopping the production line when defects are discovered, jidoka provides the framework to drive the non-acceptance of problems and drives continual improvement.
.
Total Productive Maintenance
.
Total Productive Maintenance (TPM) is the machinery equivalent of Total Quality Management (TQM) and involves everyone in the organization in focusing on eliminating the six big losses through the use of a performance measure known as OEE. TPM builds on Preventive maintenance and predictive maintenance programs and involves the operators through autonomous maintenance. This is another foundation stone of Lean manufacturing which ensures that you not only have reliable processes by eliminating breakdowns but also standardizes your processes, reduces and improves setups and increases product quality.